Welcome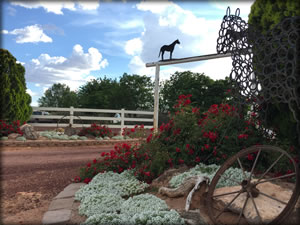 Welcome to Rope-Race-Ride where we raise high quality rope, race, and riding horses.
We are located in the red sands of southwestern Utah near spectacular Zion National Park.
Owners Mike and Raquel Randall have been breeding, raising, and training exceptional Quarter Horses for over 25 years. At Rope, Race, Ride we like a cowboys kind of horse, athletic, alert, and responsive, with enough size and structure to get the job done.
It is our goal to cross outstanding stallions with excellent mares to produce the highest quality barrel racing, roping, and/or ranching prospects available. Our current stallions and broodmares represent the most popular bloodlines in performance horses today and were selected for their proven pedigrees, conformation, and disposition, with an emphasis on performance, speed, and natural cow sense. Our horses come from champion bloodlines including Frenchman's Guy, First Down Dash, Beduino, Easy Jet, Special Effort, Peppy San Badger, and Two Eyed Jack.
We take pride in knowing that our horses not only have conformation and looks, but are exceptional in the arena or on the ranch.
Stay and look around, you will be glad you did!