Our History
Mike and Raquel were both raised around horses and the ranching/arena lifestyle. Mike began his career as a professional horseman in 1986 when he went to work as a cowboy for Deseret Ranches of Florida (DRF), the largest cattle ranch in the United States.
After leaving DRF, Mike and his wife Raquel opened JM Randall Training Stables, training race horses and starting colts for ranchers and arena cowboys. During their 6 years at the track they had many winners and learned a lot about bloodlines and conformation. They also began standing their own stallions during that time. When their kids began to reach school age they left the racing circuit and began focusing more on their breeding and training program.
"For over 25 years, our main focus has been to breed the best stallions with the best mares to create a progeny we can be proud of. Our broodmares are equally as important as our stallions; with proven race and performance bloodlines, conformation, size, and ability. When developing our breeding program we searched all over the country to find mares with the qualities we like. Now, many of our broodmares we have raised ourselves and come from years of breeding knowledge; with a natural willingness to learn, athleticism, conformation, speed, and cow sense our main goals."
In 2006 Mike and Raquel formed Advantage Experiential Services LLC with Carolle and Frank Belle and bought the stallion Sables Dashing Guy as a yearling from the Myers sale in South Dakota. His foals have now reach the age for roping and barrel competition. They are easy to train with great dispositions, good conformation, lots of speed, and a natural cow sense. They also stand 2 other great stallions that complement their breeding program, French Easy Flit and AES Sables Stoli Guy.
"Today we are still growing, with over 100 horses, and striving for the best individual horses possible, a true cowboy's kind of horse, one that can be used in the arena or on the ranch."
Our Facility
Our facility is located on 20+ acres just off Highway 9, 15 minutes from St. George, UT and 40 minutes from spectacular Zion National Park. It offers a 22 stall barn with a state of the art breeding lab, 3 arenas including a competition size roping arena, calf roping arena, and covered riding arena, round pens, turnouts, pastures, and a bunkhouse.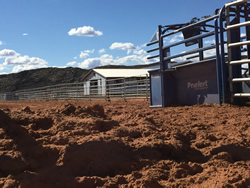 We also have a working relationship with S-V Ranch in Tippett, NV where our horses get the full ranch experience.
Giving Back
Our help have mostly consisted of young men going through difficult times in their lives. The principles they learn, the hard work they do, and the success they have, are vital aspects for them to go on in life as a productive adult.
Most of them have never been around horses before and soon learn that the horse is dependent on them doing their job. Regardless of the weather; heat, wind, rain, or snow, the work has to be done. The horses have to be fed, watered, and cared for. They develop a sense of responsibility and learn that they can do hard things, which helps them through the difficult times in their lives.
In the fall of each year we host the Green Horn. The Green Horn is an opportunity for these young men to compete with a team of seasoned cowboys in a ranch style rodeo and demonstrate the skills that they have been learning. The Green Horn is a low pressure, enjoyable, family oriented event where these young men can learn and grow while competing at their level in front of family and friends. Prizes include saddles, buckles, handmade chinks, headstalls, and more. A free lunch is also served. Click here for more information about the Greenhorn.